It was first launched for Windows Phone then for Blackberry, and now vRad Games has launched its driving and parking game Drive To Home for Android.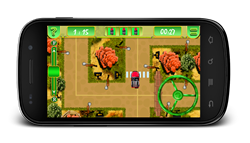 Delhi (PRWEB) December 30, 2013
Vrad Games, a leading mobile game developer from India, released their first car parking game Drive To Home in Android Market. Drive To Home is a casual car driving and parking game, and it is simple enough for anyone to learn and is fun for all ages. The objective of the game is to drive to home and park in the parking lot, all within minimum time and without damage to the car. There are a total of 120 unique levels with 3 different worlds, and each level can play in day or night mode.
Game play of this car parking game is available on YouTube.
Below are some of the features of this parking game:

Each level can play in both day and night modes.
On-screen driving controls with realistic driving physics help to test the driving and parking skills.
Built-in, easy to learn and user friendly tutorials that will pop up while driving.
Beautiful places to drive in and realistic sound effects.
The score can post to social networks like Facebook.
A Lite version of this parking game Drive To Home can be downloaded from Android Market for free, while the Pro Version is available for $ 0.98. Drive To Home is available worldwide in English and, as earlier indicated, is already available for download free in the Windows Phone Store and Blackberry World.
Press Kit of Drive To Home can be downloaded from the website of Vrad Games.
vRad Games, a mobile game developer headquartered in India, develops casual games and applications for Android, Windows Phone and Blackberry devices.